I've yet to find a larger or more convenient portal into the mind of a great artist than to view the drawings of Rembrandt Van Rijn. I often say that if one looks carefully,  there is almost certainly a lesson in any of them.
The more I've allowed myself to cross over and enter his world through his drawings, the more I learn from them. His mind, eye, and hand were never idle, and it's great fun to think what he would be doing in our world today.  He was the type of man who was never bored by everyday life.  Whenever he wasn't planning a painting in his sketches, he would be  drawing a child sleeping, a maid working, working out Biblical subjects from imagination, or observing a couple.  When weather was cooperative, he would be  out drawing the neighborhood, from kids shoplifting to minor construction projects.
At other times, he wandered beyond city limits to the countryside,  for  a great portion of his drawings are devoted to the landscape, although he rather rarely painted it. Is it reasonable to wonder if he's among the first of distinguished artists to draw for the love of drawing and observation alone?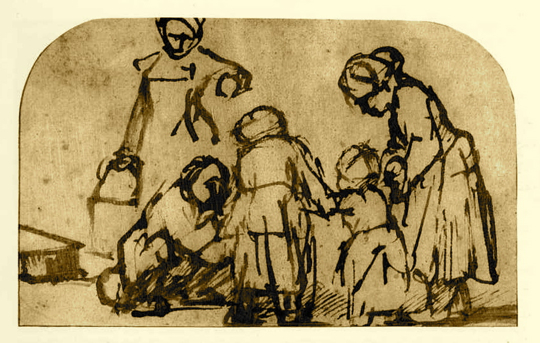 A Child Being Taught to Walk Pen and Ink
In upcoming posts, I'm planning to offer some of my own thoughts and examinations of drawings by Rembrandt in hopes of getting newcomers excited by this very accessible artist.